Krutyń Kayaks
Kayaking trips on the Krutynia River
KAYAKS ON THE BEACH
Gościniec Zapiecek invites you for kayaking trips on the Krutynia River.
We provide high quality water equipment and possess many years of experience.
Our offer includes a comprehensive and professional organization of one-day and multi-day trips for individuals, groups and school trips.
Guests can also request kayaking trips with a lifeguard.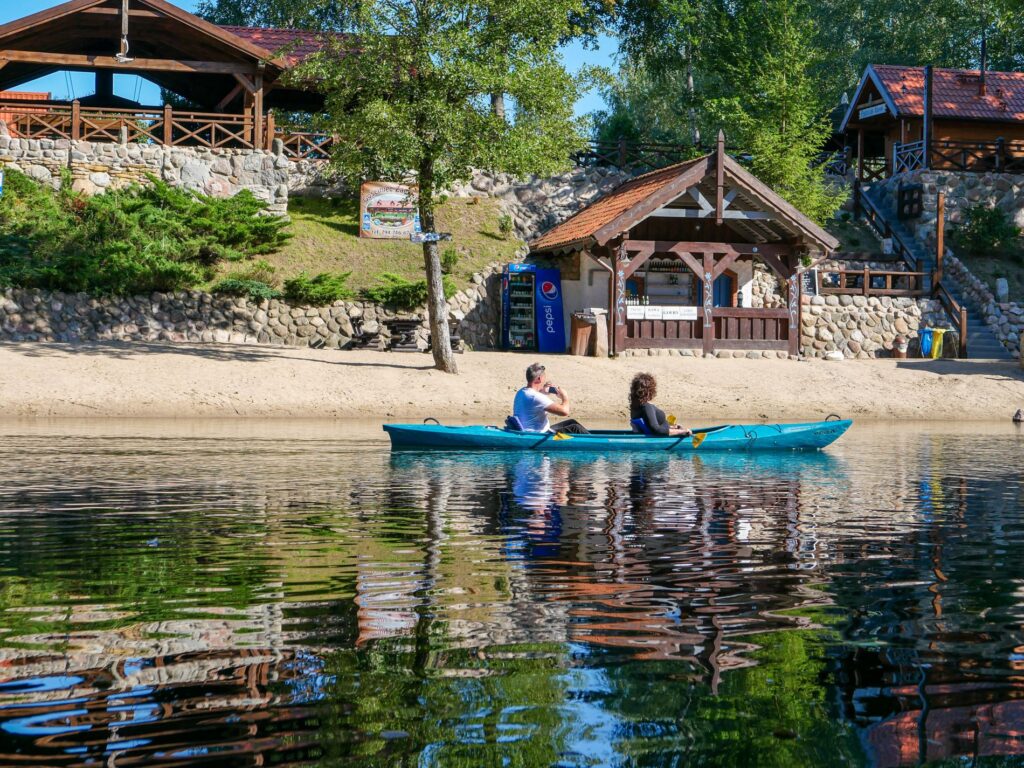 Amazing fun
Kayaking trips are an amazing way of spending free time.
There are many trails to choose, also upstream, which make each section of the trip exciting and unforgettable.
We offer professionally organized kayaking trips on the Krutynia River, that's why we are perfectly aware that it's really important to ensure other fun activities during the trips, such as swimming on the sandy beach of Zapiecek (the best beach on the trail), birdwatching (including the white-tailed eagle) and watching various species of fish in a crystal clear water. Trip-goers can also see the red rock river bottom in the reserve.
During longer trips, we offer accommodation in Gościniec Zapiecek located near the beach.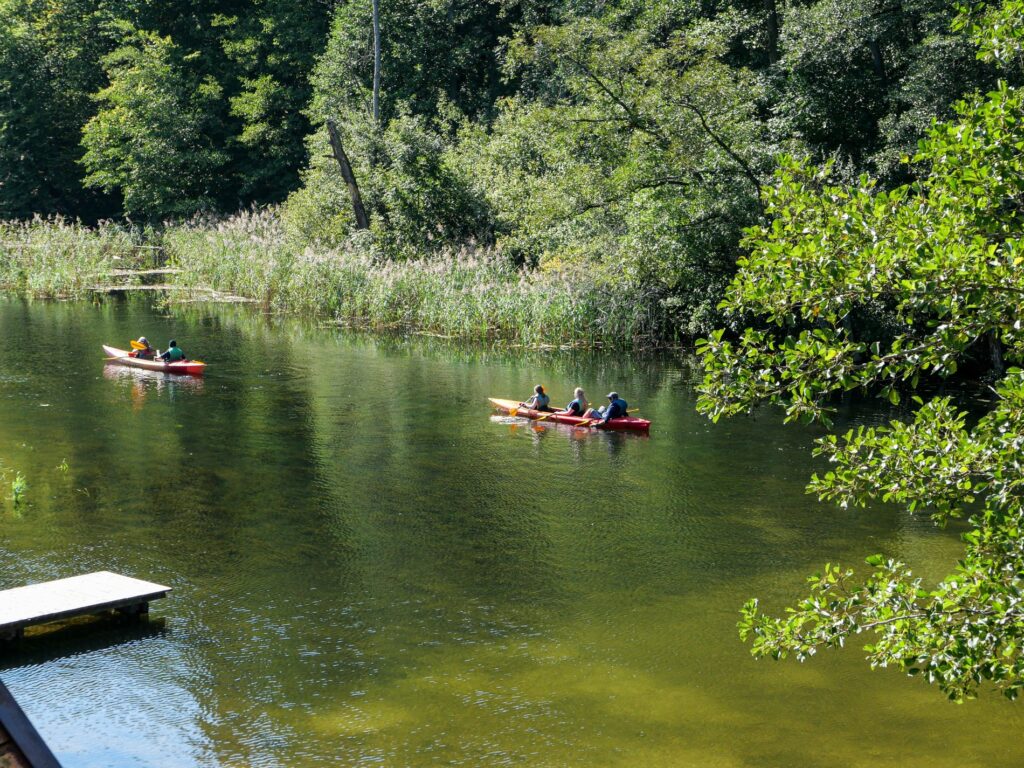 Perfect organization
Kayaking trips on the Krutynia River offer breathtaking views and picturesque landscapes.
We can recommend the most beautiful trails, for instance, Zgon – Zapiecek (14km) or Cierzpięty – Zapiecek (7km), the trail runs through a nature reserve, Krutynia Lake, river outflow, low tourist traffic.
The Zapiecek – Ukta (12km) trail is the most popular trail only on the river. You can sightsee a mill and the Monastery of Old Believers in Wojnowo on the way, traffic on this section is very high, especially at weekends.
The trails, on which we have organized trips for many years, offer views of natural beauty, such as Mokre Lake, Krutynia Lake, Gardyń Lake (bird reserve).
There's no doubt that the Krutynia river offers the most diverse and the most interesting trails for kayaking enthusiasts.
Our offer includes 1-person kayaks with a spraydeck, 2-person and 3-person kayaks as well as canoes.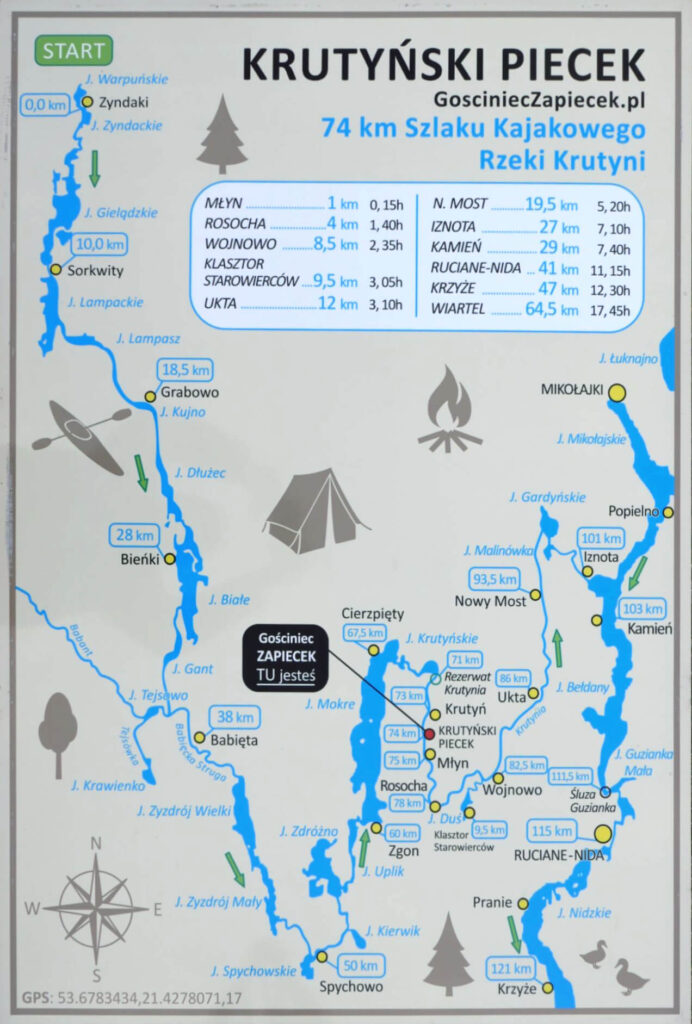 One-day kayaking trips (for example):
1-person kayak – 65PLN/trip
2-person kayak – 75PLN/trip
3-person kayak – 85PLN/trip
Length 4 km, trip time 1.30 h
Go to our website to see all routes and all prices.
Wide selection of water equipment
Several covered campfire stands
Transport of persons, equipment and luggage
Comfortable campsite with a kayak mooring pier
1-person kayaks with a spray deck, 2 and 3-person kayaks and canoes
Free parking space for the duration of kayaking trips
Russian Banya (traditional sauna, wood-fired)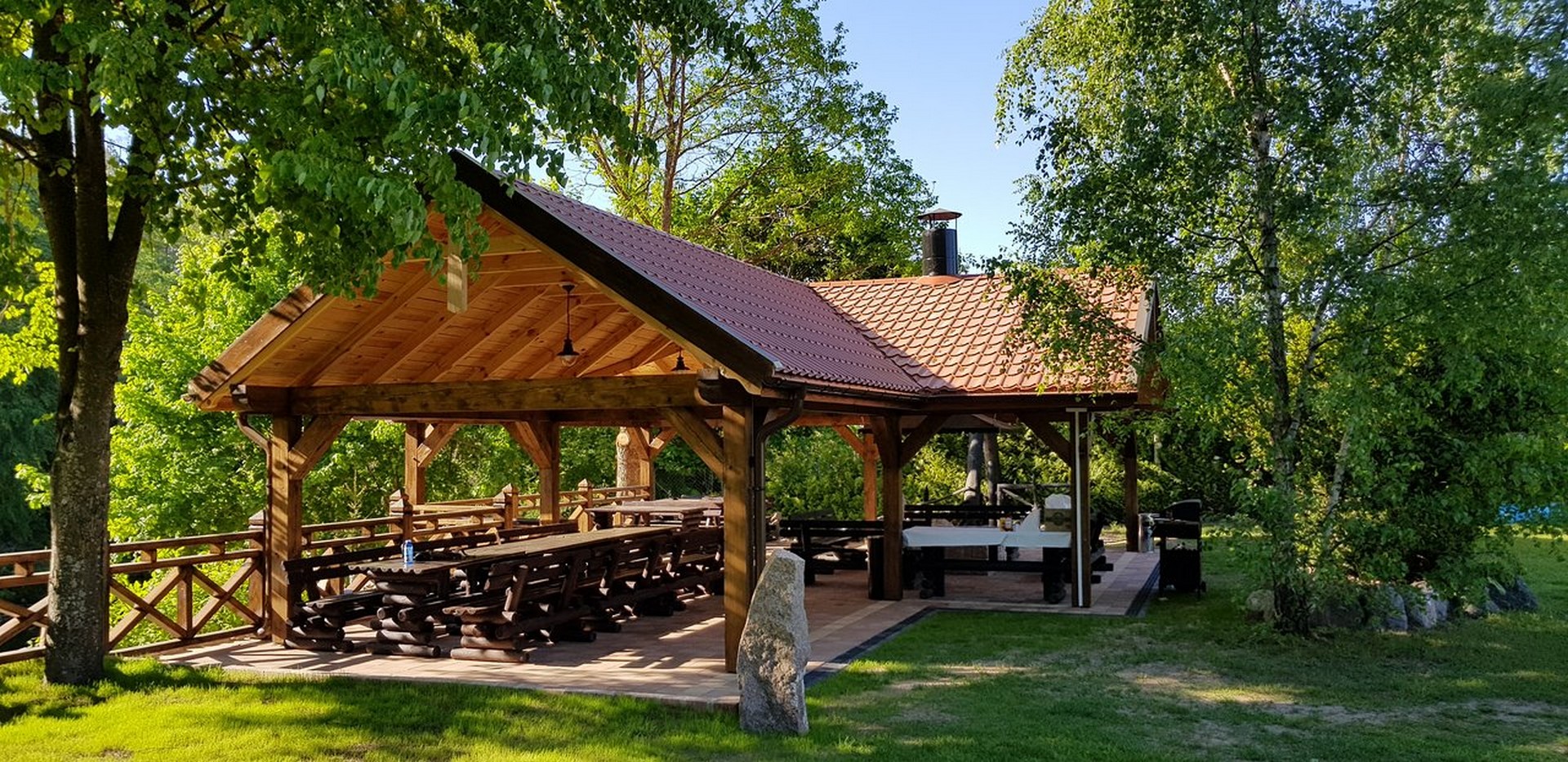 Gościniec Zapiecek
Visit us
Krutyński Piecek 4, 11-710 Piecki
kasia@goscinieczapiecek.pl